We have a new K230 medium sized food mixer for immediate trial or purchase after a Covid-19 outbreak prevented us from conducting a trial in one of our customer's factory.
Please see brief details below and if you are interested in a non-committal trial get in touch by replying to this email, or calling us on 01580 764321 and we can soon get this arranged.
K230 Mixer
The large 300L tub on this machine allows for fast mixing of a wide range of products.
Whilst the large discharging port allows the total unloading of the product in 90, 120 or 200L. buggies in a few seconds.
The spacing between the gear-box and the mixing bowl isolates the product from the lubricating oils of the drive end and protects the mechanics from possible water infiltration.
The fastening mechanism of mixing arms allows for quick disassembling for cleaning.
The discharging port completely is removable in few seconds without tools and is easy to clean.
The mixing shafts can also be easily and quickly removed. Smooth surfaces and lack of corners facilitates fast and effective cleaning
More Equipment from Omet
Grinders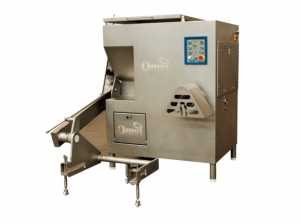 Floor standing models, from the smaller TCM machine, the larger TCA (pictured here) and the largest in the range, the TCP, cover all production requirements from 1200Kg/hr – 5000Kg/hr.
All are of heavy duty stainless steel construction, with the larger models having an optional lift loader.
Mixers
Small, medium and large producers are catered for here, and all but the small 100L mixer can have the option of touch screen control for the automatic programming of mixing cycles for the processing of any type of product.
The double shafted intersecting paddle mixing system guarantees a delicate treatment of the product, even on the largest 1000L model. The large discharge ports on these machines also gives quick and easy emptying into tote bins.
Vacuum Fillers
The smaller vacuum fillers are driven by an asynchronous motor, controlled by an inverter and an extremely simple control panel, with a large touch screen, whilst the larger models come equipped with a PLC electronic drive system.
Hydraulic loaders are available as an option on all of the range.
String Linkers
The Omet string linker is designed to string tie in a continuous row several types of sausages. The standard machine can also be fitted with an automatic feeder, as shown here, which can be controlled by the filler operator to stop and start the machine via a simple foot pedal.
Length of sausage, number of tying turns and closing pressure is also programmable via a simple touch screen.
https://paragonpsl.com/wp-content/uploads/2016/06/logo.png
0
0
admin
https://paragonpsl.com/wp-content/uploads/2016/06/logo.png
admin
2021-03-18 13:07:42
2021-03-18 13:12:59
New medium sized food mixer now available for trials or purchase