Omet Foodtech was founded in 1959 in Poggibonsi, in the heart of Chianti, Tuscany, with the aim of producing machines for the meat industry.
At the beginning the company focused on butcher shops which used to produce sausages in manual way. The company soon developed more complex machines for the sausage factories, reaching a relevant position in the Italian market. From the beginning of the '90s the company expanded itself in the main international markets.
As of today Omet Foodtech produces a vast range of machines for the food processing industry: our grinders, mixers, vacuum fillers and string linkers are being used in several countries all over the world.
For over 50 years Omet-Foodtech produces machines for the food processing industry, in particular for the meat industry, combining the knowledges gained by strong local traditions to the application of high and constantly developing technologies. Omet-Foodtech produces machines which are suitable to all firm sizes, from small-medium to big industries. Our machines are developed by focusing on our clients' demands, with the goal of reaching high levels of efficiency, reliability, innovation, safety.
Equipment from Omet
GRINDERS
Floor standing models, from the smaller TCM machine, the larger TCA (pictured here) and the largest in the range, the TCP, cover all production requirements from 1200Kg/hr – 5000Kg/hr.
MIXERS
Small, medium and large producers are catered for here, and all but the small 100L mixer can have the option of touch screen control for the automatic programming of mixing cycles for the processing of any type of product.
The double shafted intersecting paddle mixing system guarantees a delicate treatment of the product, even on the  largest 1000L model. The large discharge ports on these machines also gives quick and easy emptying into tote bins.
VACUUM FILLERS

The smaller vacuum fillers are driven by an asynchronous motor, controlled by an inverter and an extremely simple control panel, with a large touch screen, whilst the larger models come equipped with a PLC electronic drive system.
Hydraulic loaders are available as an option on all of the range.
All models can be connected to any type of clipper or string linker (below).
STRING LINKERS
The Omet string linker is designed to string tie in a continuous row several types of sausages. The standard machine can also be fitted with an automatic feeder, as shown here, which can be controlled by the filler operator to stop and start the machine via a simple foot pedal.
Length of sausage, number of tying turns and closing pressure is also programmable via a simple touch screen.
MINCE MEAT:  GRINDING HEAD & PORTIONING BELT

The portioning belt in conjunction with the grinding head allows portioning and cutting of minced meat to be placed (with or without paper) in tray. The independent adjustment of the speeds of the two conveyor belts together with the characteristics of the grinding head with separator ensure an exact portion and a perfect definition of the minced meat.
CEVAPCICI:  

FLOW DIVIDER & PORTIONING BELT

The Cevapcici Line is an optimal production line for manufacturing cevapcici, mici, croquettes and other similar formed products.
The portioning belt in conjunction with the flow divider allows simultaneous forming of six meat flows of product for an exact portioning (with or without paper).
ROUND FORMER
Forming machine for the production of round shaped products, meatballs and similar. Diaphragm separation system. Single and double forming heads are available in various sizes. Connectable to any vacuum filler equipped with a portioner. Stainless steel moveable frame adjustable in height. Electronic control for handling of various shapes. Multifunction transport belt with electronic speed adjustment.
GRINDING HEAD AGF 130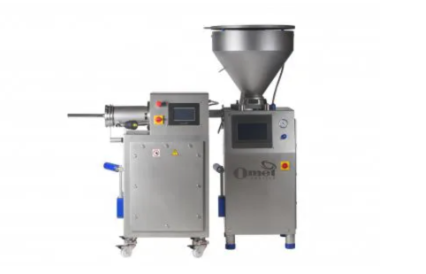 Independent grinding head connectable to any vacuum filler. Independent electronic drive controlled by touch screen. It is possible to set different cutting speed for any kind of product (raw sausage, salami Milano, Hungarian salami). The system guarantees clear particle definition without smearing and binding of the finish product without air pockets for an Optimal aging. Applicable in filling, portioning and twisting modes. Integrated bones and tendons separating, clipping device.
AUTOMATIC BURGER FORMER
Device for forming hamburgers with rotary drum. Connectable to any vacuum filler equipped with a portioner. A wide choice of forming drums allows production of hamburger of various types and shapes. Diameter from 60 to 120 mm. Maximum thickness 30 mm. Mobile frame with adjustable height. Max production. 60 pcs/minute.
Paragon Processing Solutions are agents for Omet in the UK and Ireland so get in touch to discuss your processing requirements by replying to this email or calling us today on 01580 764321.
https://paragonpsl.com/wp-content/uploads/2023/09/Omet.jpeg
279
660
admin
https://paragonpsl.com/wp-content/uploads/2016/06/logo.png
admin
2022-11-30 15:12:45
2023-09-05 15:52:25
Mixers, Grinders, Vacuum Fillers & String Linkers