MAGURIT DICECUT and UNICUT: are designed for precise cutting of block-frozen meat, dairy and confectionery into cubes and strips. The UNICUT series includes the machines with a two-dimensional cut for strips and slices, while the DICECUT series three-dimensional cutting machines for strips and dices.
This means that the product is precisely positioned in front of the knives before it is cut. As a result, the product cannot avoid the knives and the "even cut" described above occurs.
UNICUT can also be used whenever raw materials are to be processed that do not slip on stainless steel, such as confectionery or some dairy products. This is where the feed and hold-down system offers the decisive advantage. The UNICUT is available with belt drive or with an integrated, pneumatic feed table.
Cutting temperature range between 0 and -25 degrees centigrade
Applications:  Frozen slicing and dicing of Frozen: Meat, Poultry, Fish, Vegetables, Cheese and pork scratchings.
Dicecut: Frozen Block Dicer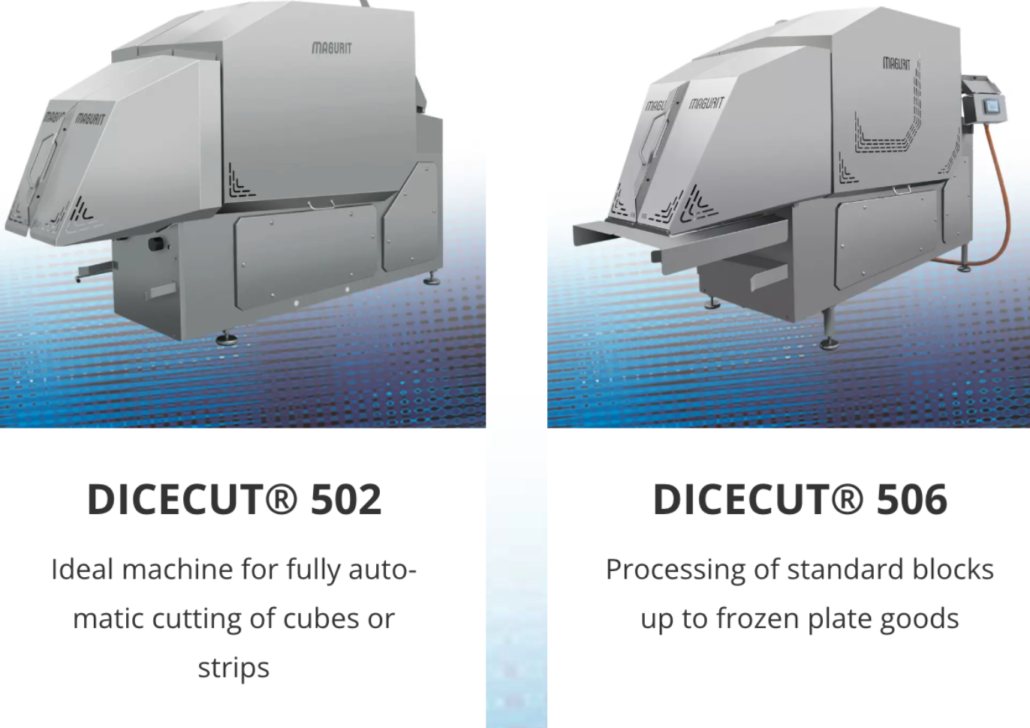 At the same time, the energy costs are significantly reduced and the processing process is significantly accelerated, with less microbiological contamination of the product and significantly reduced production costs, but at the same time a higher yield. With a cutting space of 420 x 240 x 900 mm for the DICECUT 502 or 630 x 240 x 1100 mm for the DICECUT 506 , all known EURO or US block formats can be processed without pre-shredding or compression. The machines can be operated by one employee, including loading the blocks of meat and removing the cut product, or they can be integrated into a complete processing line, including weighing and packaging.
Cutting temperature range between -4 and -25 degrees centigrade
Applications: Frozen slicing and dicing of beef, pork, poultry or fish
Above are just a few of the machines available from Magurit so get in touch to discuss your processing requirements by replying to this email or calling the team today on 01580 764321 or by visiting our range here or by visiting the Magurit website
https://paragonpsl.com/wp-content/uploads/2023/09/4398839_logomaguritplast.jpg
255
660
admin
https://paragonpsl.com/wp-content/uploads/2016/06/logo.png
admin
2023-03-07 15:31:29
2023-09-07 15:45:12
Frozen Slicing & Dicing