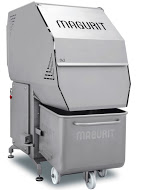 Magurit Pre-breaker
Then you should consider the benefits of a Magurit Pre-breaker
A Magurit Fromat or Starcutter can:
Increase safety
Improve product quality
Reduce equipment maintenance
Minimise machine downtime
Reduce running cost
Fromat 042
Starcutter
Frozen Block Reducer
The Fromat is a frozen block reducer and is ideal for the cutting of frozen meat blocks into slices, or when fitted with a cross-knife head, into smaller sized pieces; perfect for further downstream processing equipment. Various different machines cater for production rates from 900Kgs/hr right up to 10000Kgs/hr, cutting at temperatures as low as -30 degrees centigrade. All models are stainless steel constructed and because of the very robust build, will give many years of service.
The Fromat is gravity fed via slope, on which the blocks slide down to the cutting area. All machines have a strong hydraulic drive for operation of the knife head. The Fromat is the perfect machine for pre-cutting of blocks for further processing in bowl choppers and grinders. This type is suitable for all standard block shapes and sizes. The Fromat can cut meat at very low temperatures. The final cut pieces are typically used in raw sausage production. With different knife heads the desired cutting result will be obtained. The extremely sturdy machines work with high efficiency in butcher shops and industrial plants. Handling and cleaning are easy.
Come and see the entry level Fromat 042 on our stand L353 in Hall 20 at Foodex and discuss your processing needs directly with the manufacturer Magurit
https://paragonpsl.com/wp-content/uploads/2013/12/Fromat-042.jpg
190
142
Paragon
https://paragonpsl.com/wp-content/uploads/2016/06/logo.png
Paragon
2014-03-18 17:05:22
2019-04-11 12:05:28
Using a bandsaw to cut blocks to feed your mincer or bowl cutter?