Plascut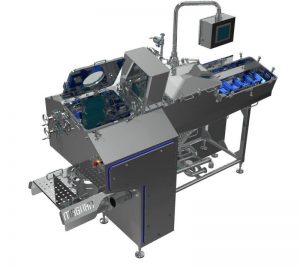 Frozen Human Blood Plasma
The PLASCUT is a frozen human blood plasma bag opening system and the latest development from Magurit in a line of specially designed equipment for the fractionating companies within the pharmaceutical industries. Frozen plasma has to be removed from its plastic packaging and this needs to be done under very high safety and hygienic standards. The PLASCUT 592 opens the containers with a knife and enables the producers to remove the valuable product from the bag without destroying the container or introducing any form of contamination.
The bags are manually placed into the PLASCUT 592 from where they are automatically washed, dried, cut and emptied. The bags are squeezed to remove the plasma, with the empty bags being automatically moved to a waste receptacle.
These highly specialised machines are built to exact customer requirements, please call to discuss.
This meat processing equipment is part of the Magurit range of equipment for which Paragon Processing Solutions are the sole UK and Ireland agent.
Save
Applications: For the opening of frozen human blood plasma bags