DiceCut 502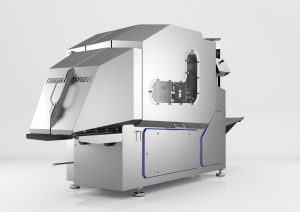 Frozen Block Dicer
The Magurit 506 and 502 DiceCut frozen block dicer can handle all known Euro sized blocks low temperatures, with optimal dice being produced between -8 and -12, eliminating drip loss and increasing yield by 2-8%.
Both machines initially slice the block at thicknesses of between 10 and 60mm by easy adjustment without tools, with the sliced product being automatically transported to the dicing head where interchangeable heads can be fitted to dice at dimensions of 10-100mm width and 3-50mm depth. The 506 dicer will produce a good quality 20x20mm dice from a standard euro sized frozen block at around 2.3T/hr, whereas the 502 dicing at 20mm will give around 1.5T/hr. Different dice sizes can be produced by simply changing the dicing head, with throughput dependant on the dice head selected.
Both machines require only one operator to feed and discharge the product, but automatic conveyor loading and take away can be provided if necessary.
Conveyor belts are easy to disassemble with the touch of a button and all areas are easily accessible for cleaning, and with all the machine surfaces being angled, cleaning liquids are allowed to run to drain.
Other slicers and dicers in this range include:
Fresh or Cooked Meat Dicer – Galan 920/930
This frozen meat dicer is part of the Magurit range of equipment for which Paragon Processing Solutions are the sole UK and Ireland agent.
Applications: Frozen block dicer of beef, pork, poultry or fish